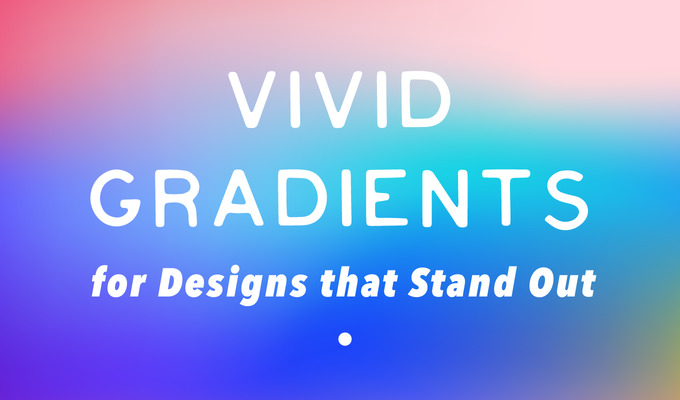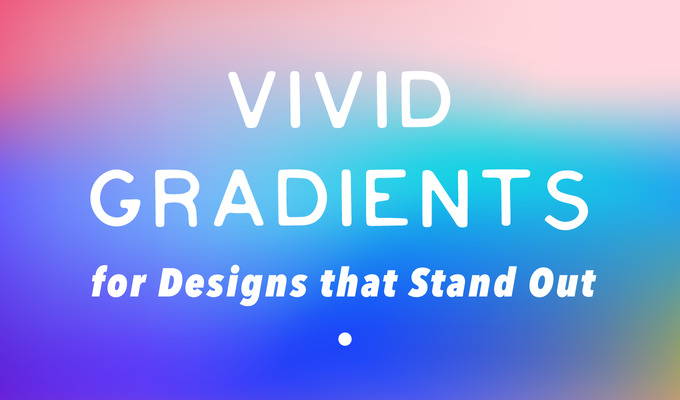 Any designer worth their salt knows that gradients are a versatile way to power your creations with a modern look. With gradients being all the rage over the past year, you might well want to start incorporating them into your own designs, so check out these gradient packs that will put you on the fast track to mixing them into your work with minimal hassle.
Creative & Vibrant Gradients Set
Olga Ryzychenko crafted the Creative & Vibrant Gradients Set to help designers achieve an ideal finished look for modern design projects. You'll find 30 different gradients and 12 shapes (both vector and raster) in this set that are suitable for use as overlays, background, typography, web/mobile apps, and more.
Sunsets & Sunrises Gradient
This collection of Sunset & Sunrise Gradients by Creative Supplies Company provides you with 20 gradients inspired by those two magical times we experience every day. Suitable for all kinds of projects, you'll find this bundle of gradients ideal for modern designs that need just a bit more flair.
20 Holographic Gradients
For equal parts vivid and soft, you'll want to turn to Bold Leap Creative's Holographic Gradients. This aesthetic is perfect for cool, calming modern designs (though the gradients do provide a limited touch of warmth), and the collection comes with 20 gradients in AI, Photoshop, EPS PNG, and JPEG file formats, at both 72 and 300dpi.
Abstract Gradient Backgrounds
If you want to dazzle with gradients that incorporate some abstract shapes and angles, you'll want to go with the Abstract Gradient Backgroundscollection from joulenc. This set includes 14 polygon-style vector gradient backgrounds in JPG and EPS formats. You've got a range of colors to choose from, which cover both warm and cool hues and are perfect for weaving into blogs, banners, and posters.
Colordrop 50+ UI Gradients Bundle
The Colordrop Gradients Bundle by Nice Very Nice provides you with a hefty selection of more than 50 gradient backgrounds to incorporate into your work. These gradients are compatible with Sketch App, Photoshop, and HTML/CSS, and come packaged as high-quality JPEG files for you to drop into your designs with ease.
18 Abstract Blurred Backgrounds
Abstract, colorful, and gently blurred — these are the standout features of karetniy's Abstract Blurred Backgrounds set. The collection includes 18 gradient backgrounds which come as 300-DPI JPEGS, and are suitable for use in both web and mobile applications that you want to imbue with a modern feel.
Blur3: 16 Blurred Backgrounds
Cardcandy's Blur3 collection is a package of 16 blurred gradient backgrounds that run the gamut from dark and moody to warm and inviting. These gradients are perfect for adding some drama to your app landing pages, websites, and similar design projects, and come bundled as high-resolution PNG files.
Gradient Backgrounds Presets Volume I
Beautiful candy colors and subtly-shifting gradients combine in Makestudio's Gradient Backgrounds Preset collection. This pack goes for the modern feel, with gradients suitable for a range of design projects, including websites, posters, and prints. With this set, you'll get 12 high-quality PSD files to use as you see fit.
Holo & Rainbow Gradient Background Set
Anchors and Curves' Holo & Rainbow Gradient Background set is perfect for posters, though, you can use these gradients as backgrounds on a multitude of other projects as well. You'll get 18 hi-res vector/bitmap files in this collection, divided into 9 "smooth" and 9 "rainbow" gradients.
Liquid Gradients Collection
Liquid Gradients is an apt name for Polar Vectors' collection of 36 "liquid droplet" gradients. These gradients come in a range of dynamic, high-energy shapes that you can cobble together into your own unique backgrounds, and come in vector and raster files so you can use them for a variety of projects.
Sky Gradients Overlays for Photoshop
Feingold Shop created the Sky Gradients Overlays collection with photography squarely in mind. These gradients are perfect for replacing the (possibly) boring sky in your shots with something more dynamic, and the set includes 50 PSD/JPG files for you to play with while enhancing your photos.
GENX Gradient Compositions Toolkit
Polar Vectors' GENX Toolkit is a robust collection of gradient backgrounds, shapes, patterns, and overlays that will help you compose your own futuristic-looking designs for print and web projects. The entire kit includes 142 elements:  a combination of shapes (like circles, squares, and pyramids), and additional tools like brush strokes and typography.
Waves & Shapes Vivid
Olga Ryzychenko's Waves & Shapes Vivid pack includes a selection of vibrant gradients combined with abstract shapes for use in modern-feeling design projects. The set includes 20 gradients in all, packaged as AI, EPS, and JPEG files.
Holographic Gradients
Polar Vectors' Holographic Gradients perfectly embody the "light and sweet" end of the gradient spectrum, and go well with modern print and web design projects. The set contains a total of 60 holographic gradients, packaged as both high-quality EPS vector and JPEG raster files.
Gradient Design Pack
The simply-named Gradient Design Pack is anything but. These vivid gradients look great when included in both digital and print formats, and are suitable for use on social media pages, apps, and a range of print products like posters, business cards, and the like. The pack contains 24 gradients, available as AI, EPS, JPG, and PNG files.
Colour Gradients
Made by Chris gives you the essentials with the Colour Gradients set, a collection of 6 multipurpose gradients that feel at home on just about any design project under the sun. The pack has some range when it comes to file types as well, giving you AI, EPS, PNG, and JPEG formats for maximum utility.
Gradients are a useful tool for adding some extra pop to your creative pieces and bringing some life to flat design. Review some of the aforementioned options carefully, then dive in with the pack that best suits your needs and get to work making your work slicker than ever before.
Source: Creative Market
https://wp.freedomofcreation.co.uk/dandev/wp-content/uploads/sites/101/2019/08/52429.pic_.jpg
400
680
sebmartin
http://wp.freedomofcreation.co.uk/dandev/wp-content/uploads/sites/101/2016/06/foc-weblogo-2.png
sebmartin
2019-08-08 10:14:27
2019-08-13 10:02:54
Vivid Gradients for Designs That Stand Out