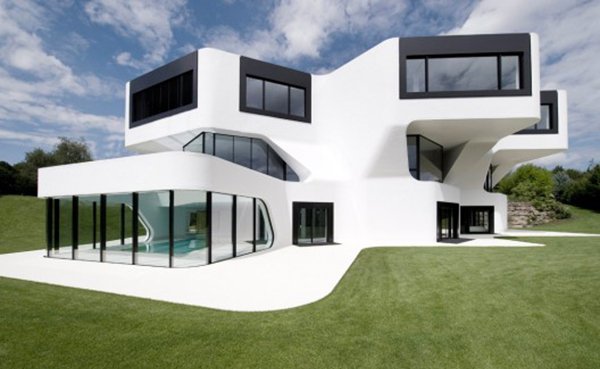 Green buildings made of recycled materials are the hot new thing.
The home of the future won't look like The Jetsons. It won't come equipped with a flying car or a robot maid. While it will deploy a slate of clean-energy technologies that the cartoon's creators couldn't have imagined — solar windows, lithium-air batteries, artificial intelligence— it will be made largely from wood and used materials, like recycled cement and carpet.
Experts say these technologies will put a big dent in our carbon output. And they are getting cheaper every day.
"We can build net-zero buildings," said Elizabeth Beardsley, senior policy counsel at the U.S. Green Building Council, which certifies energy efficient buildings. Beardsley is in Bonn, Germany this week for the 2017 UN Climate Change Conference, pressing the case to make all buildings produce at least as much energy as they use by 2050. "We've been working on climate for decades," she said. "We feel strongly that it's time to act on climate."
Buildings generate pollution in two significant ways. One is from power use. Residential and commercial buildings account for 70 percent of power consumed in the United States — electricity that largely comes from burning carbon-intensive coaland natural gas. The second way buildings generate pollution is in the use of materials like steel and concrete, which have a sizable carbon footprint.
To cut power use, Beardsley said that homeowners and building managers can install LED lights, generate electricity from rooftop solar panels and use smart water heaters and air conditioners to store that clean energy. She described other technologies, like windows that automatically tint when rooms get too warm, saving energy on air conditioning while keeping homes comfortable.
"Lighting manufacturers have developed systems that use sensors to know when you're there and when you're active," Beardsley said. "These are also getting cheaper and cheaper."
https://wp.freedomofcreation.co.uk/dandev/wp-content/uploads/sites/101/2017/11/6-jmayerh-duplicasa.jpg
369
600
sebmartin
http://wp.freedomofcreation.co.uk/dandev/wp-content/uploads/sites/101/2016/06/foc-weblogo-2.png
sebmartin
2017-11-14 11:16:17
2017-11-16 11:16:45
The skyscrapers of the future could be built with the garbage of today